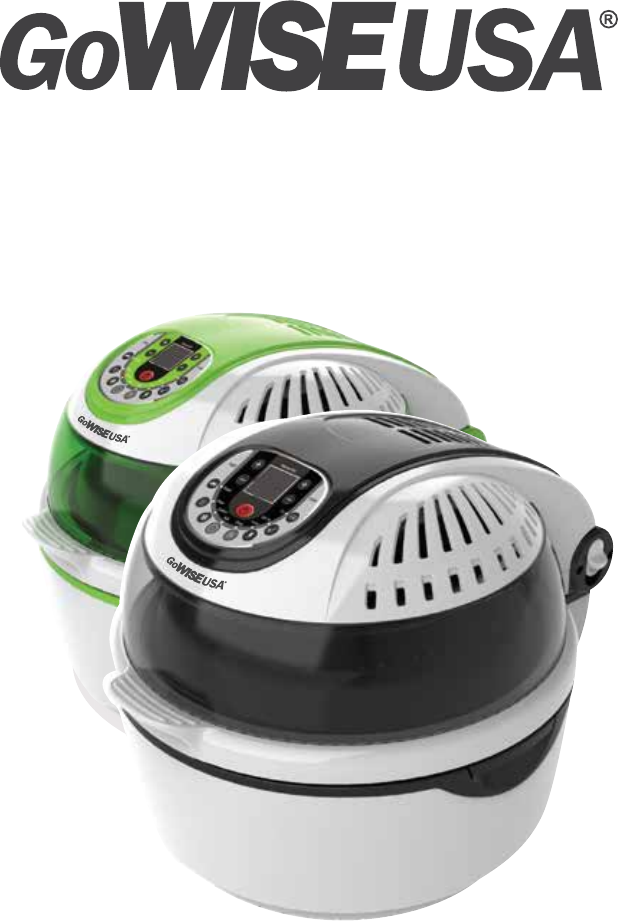 WWW.GOWISEPRODUCTS.COM
ELECTRIC PROGRAMMABLE
TURBO
AIR FRYER
GW22641/GW22642
Instruction Manual

Product Introduction
Important Safeguards
Electromagnetic Fields
Product Structure & Features
Included Accessories
Before First Use
How to use your Air Fryer
Cooking Guide
Warranty
3
4
6
7
9
10
11
13
15
Table of Contents
2
Product Introduction
3
GoWISE USA would like to introduce the GW22641(black), and GW22642(green)
Air Fryer with Rapid Air Technology and Rotisserie feature. Rapid Air Technolo
–
gy is a new technique for preparing food that usually needs to be submerged in
oil and fried. It works by circulating hot air around the pot. The best part about
this air fryer is that it heats food in all directions, using very little to no oil at all.
This air fryer has a 10.5 quart capacity and a cooking time up to 1 hour. It
features a wide temperature range of 120
°F
– 450
°F,
and a 10 hour delay time.
With the various accessories and rotisserie feature, the cooking possibilities are
endless.
Important Safeguards
(continued on next page)
4
2.
Keep the box and packing material for storage.
3.
Do not immerse the cord, plug, or any part of the appliance in water or
any other liquids to avoid electric shock.
4.
Do not leave the appliance unattended while it is operating.
5.
This cooking unit should be operated on its own electrical circuit. If the
electrical circuit is overloaded with other appliances, it may not work
properly.
6.
Do not fill the pot with oil.
7.
Do not touch the inside of the appliance while it is operating.
8.
Do not use the appliance if there is any damage to the plug, main cord,
9.
Do not go to any unauthorized person to replace or fix the appliance.
10.
Keep the main cord away from hot surfaces.
11.
Do not plug in the appliance or use the appliance with wet hands.
12.
Make sure that the appliance is plugged into the wall socket properly.
13.
Make sure that the appliance is out of reach of children, especially when
14.
Do not connect the appliance to an external timer switch.
15.
Do not place the appliance on or near combustible materials, such as a
16.
Do not place the appliance against a wall or any other appliances. Leave
at least 5 inches of free space on the back, sides, and above the
appliance.
17.
Do not place anything on top of the appliance.
18. Do not use the appliance for any other purposes other than described
19.
Do not place near hot gas, electric burner or in a heated oven.
20.
During hot air frying, hot steam is released through the air outlet
openings. Keep your hands and face at a safe distance from the steam
and from the air outlet opening. Be careful of hot steam and air when
you remove the pan from the appliance. Any accessible surface may
Important Safeguards(continued)
5
21.
Immediately unplug the appliance if you see dark smoke coming out
of the appliance. Wait for the smoke emission to stop before you
remove the pan from the appliance.
22.
Ensure that the appliance is placed on a horizontal, even, and stable
surface.
23.
This appliance is designed for household use only. It is not safe to use
in environments such as staff kitchens, farms, motels, and other
non-residential environments.
24.
The warranty is void if the appliance is used for professional or semi-
professional purposes, or it is not used according to instructions.
25.
Always wait 30 minutes for the appliance to cool down before handling
Electromagnetic Fields(EMF)
6
This GoWISE USA air fryer complies with all standards regarding
Electro-magnetic fields(EMF). Under proper handling, there is no harm done
to the human body based on available scientific evidence.
If you have any questions regarding your Air Fryer, please contact Customer
Service at 1-855-233-9199.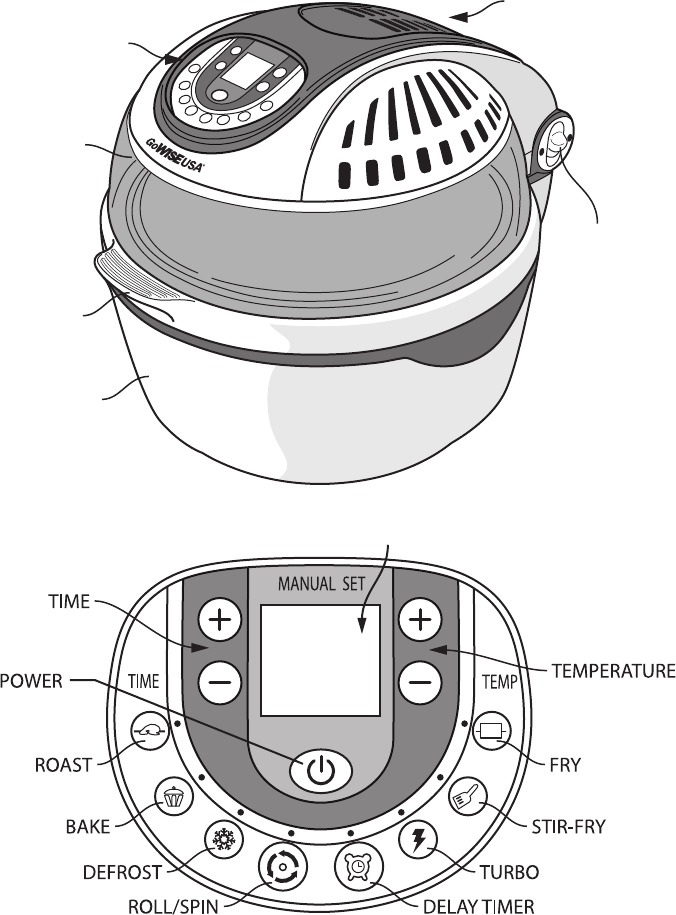 Product Structure & Features
7
(continued on next page)
LID RELEASE
SWITCH
TRANSPARENT
COVER
LID HANDLE
HOUSING
LCD DISPLAY
SCREEN
CONTROL
INTERFACE
HEAT
EMISSION
VENT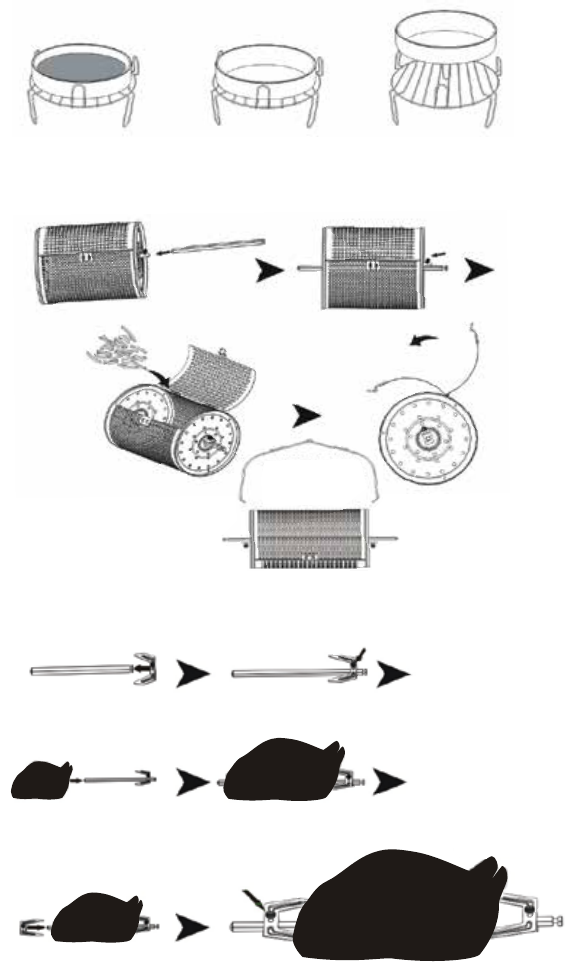 Product Structure & Features(continued)
8
PLACE THE PAN ONTO THE RACK
USE THE STAKE FOR THE BAKING CAGE, REMOVE WITH INCLUDED TONGS
USE INCLUDED STAKE AND SECURE WITH SPIKES AT BOTH ENDS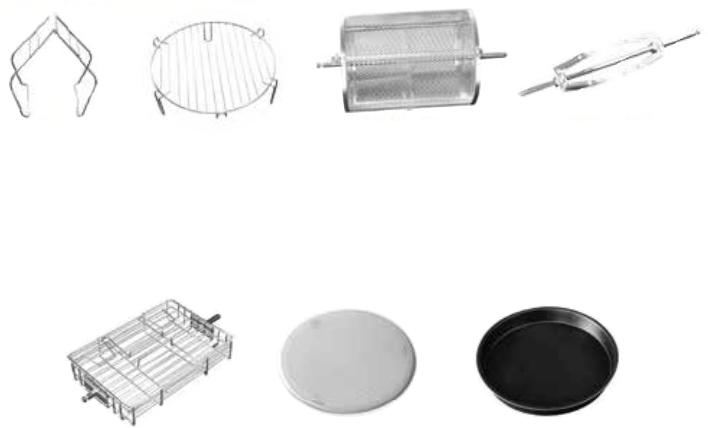 Included Accessories
9
INCLUDED ACCESSORIES
OPTIONAL ACCESSORIES (SOLD SEPARATELY)
TONG
BAKING CAGE
ROTISSERIE STAKE
RACK
Before First Use
10
1.
Remove all packaging materials, stickers, and labels.
2.
Wash and clean all accessories and removable pot with a non-abrasive
sponge and soapy warm water.
3.
Wipe the inside and outside of the appliance with a dry or only slightly
NOTE: There is no need to fill the pan with oil and frying fat because the
appliance works with hot air.
How to use your Air Fryer
1.
Lift the lid until it clicks into a locked position.
2.
Put in the cooking pot and any cooking accessories.
– If the rack or steamer is used, make sure to add a suitable amount of
– When using the roll/spin feature, make sure the stake is connected
properly and/or the spikes are secured to the food at both ends.
– Do not stack food too close to the heating element to prevent food
3.
ALWAYS MAKE SURE TO PUSH THE LID RELEASE SWITCH when closing.
Do not force the lid closed without first pushing the lid release switch.
Failure to follow these instructions may result in breakage and void
your warranty and/or return policy.
4.
Connect the unit to a power supply. Use a dedicate power outlet and
5.
Press the Power button once to put the cooker in standby mode. Select
a preset or manually set the time and temperature by pressing the time
and temperature +/- buttons.
6.
Once you set your time/temp or select a preset, press the power button
again to begin cooking process. The corresponding default time and
temperature will be shown on the LCD display screen.
7.
When a certain temperature is reached, the heating element may pause.
The heating element will restart after the temperature has dropped. The
process repeats until the set time is reached.
8.
The lid can be opened during the cooking process to add other food
(make sure to open lid to the locking position). Once you have added
the food, press the lid release button and close the lid. CAUTION: BE
SURE TO KEEP HANDS OUT OF THE WAY TO KEEP FROM SCALDING
AND/OR INJURY. The cookin process will resume at the set time and
temperature.
9.
When the set time is reached, the cooker will beep. Carefully remove the
food using the included tongs or by using the cool touch handles on the
pot. CAUTION: BE EXTRA CAREFUL WHEN REMOVING FOOD OR THE POT
FROM THE FRYER TO PREVENT FROM SCALDING AND/OR INJURY.
10. When transferring pot or accessories to other surface, ALWAYS PLACE
ON HEAT RESISTANT SURFACES OR MATS ONLY.
(continued on next page)
11

Cooking Guide
13
COOKING MODE REFERENCE TABLE
NOTE: It is recommended that the total weight of food should not exceed
11 pounds. Roast and Fry modes are operated with rotation in default. To
cancel rotation, press the rotation key once. The rotation indicator shown
on the LCD screen will go away. Other modes are operated without rotation
in default setting. Press the rotation key once to start rotation process.
(continued on next page)
Baking cage
Rotisserie stake390
360
140
450
410
450
Baking pan/Rack
Baking pan/Rack
Rack
Rack

Cooking Guide(continued)
14
390
℉

25

~

30 mins

Rotisserie stake
450
℉
20
~
25 mins
Baking cage
410
℉
10
~
15 mins
Steak cage
390
450
℉
15
~
20 mins
Baking cage
390
℉
10
~
15 mins
Baking cage or
360
℉
15
~
20 mins
Rack and pan
450
℉

10~15 mins

Skewer rack
290
℉
10
~
15 mins
Rack and pan
380
℉
12
~
16 mins
Skewer, rack
or steak cage
450
℉
5
~
8 mins
Steak cage or rack
390
℉
5
~
8 mins
Baking cage
Warranty
GoWISE USA has a 1-year limited warranty for all products. Products are
warrantied against defects in materials and workmanship for 1 year from the
date of purchase, when used in accordance with the instructions provided.
This warranty does not cover damages or wear resulting from accident,
misuse, abuse, commercial use, or unauthorized adjustment and/or repair.
Within the 1 year period, GoWISE USA, at our sole discretion, will repiar or
replace any components that fail in normal use. Repairs and replacements
will be made at no charge to you for parts and/or labor, provided that you
shall be responsible for any shipping charges. Replacement parts and/or
products may be new or refurbished at our discretion.
For all GoWISE USA Air Fryers, the removable basket, tray and all compo-
nents are warrantied for 30 days from the day of purchase and DO NOT fall
under 1-year limited warranty of the unit.
Distributed by Ming's Mark Inc.
3000 E. Chambers St.
Phoenix, AZ 85040
www.gowiseproducts.com
1-855-233-9199
GoWISE USA is a trademark of Ming's Mark Inc
.
15

Notes

Notes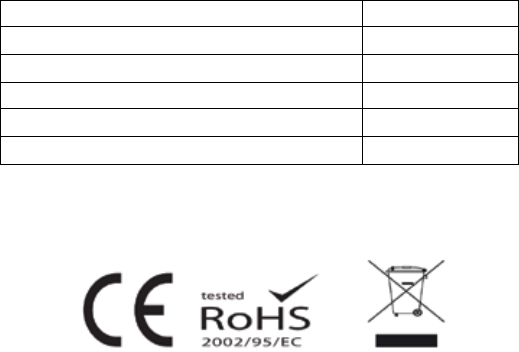 visit www.gowiseproducts.com for more info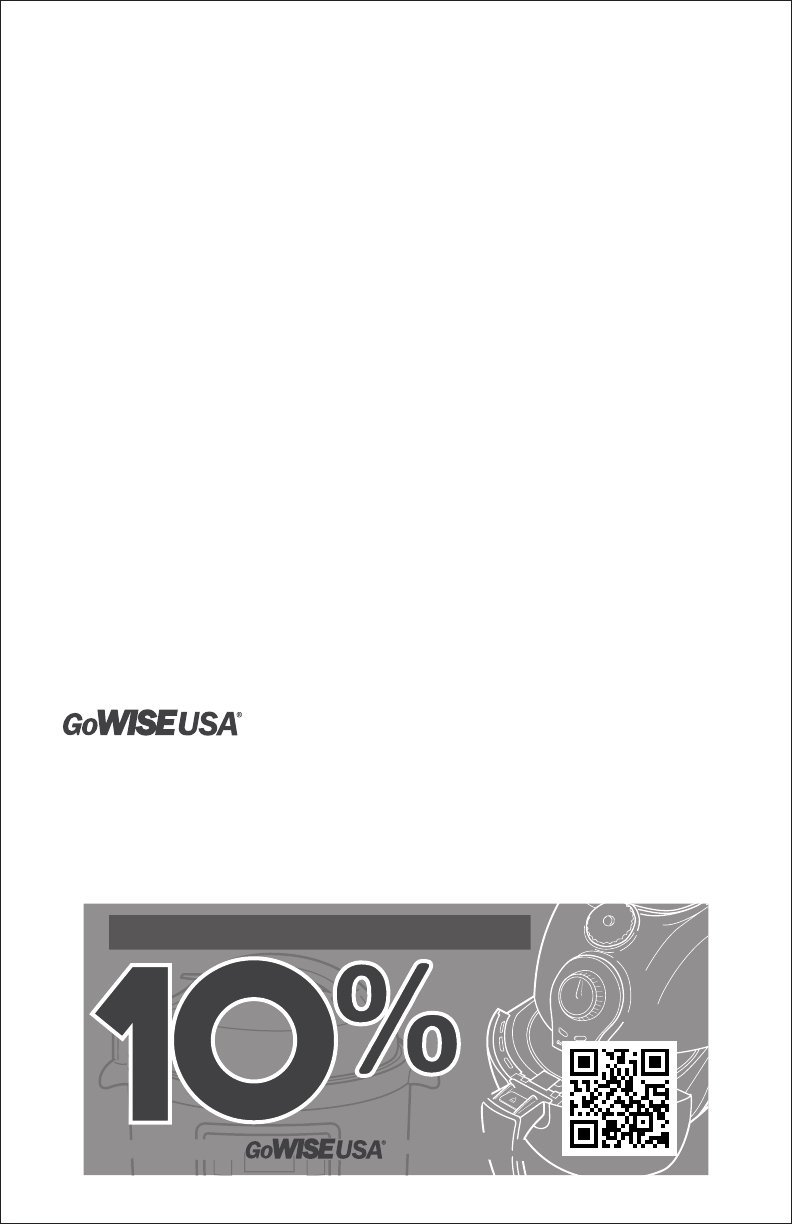 www.gowiseproducts.com
1-855-233-9199
–
To ensure correct use of this
appliance, read these instructions
carefully and thoroughly.
–
Please keep this manual for future
reference.
–
Thank you for purchasing this
GoWISE USA electric turbo air fryer.
OFF
USE PROMO CODE:
LIVEWISERAF