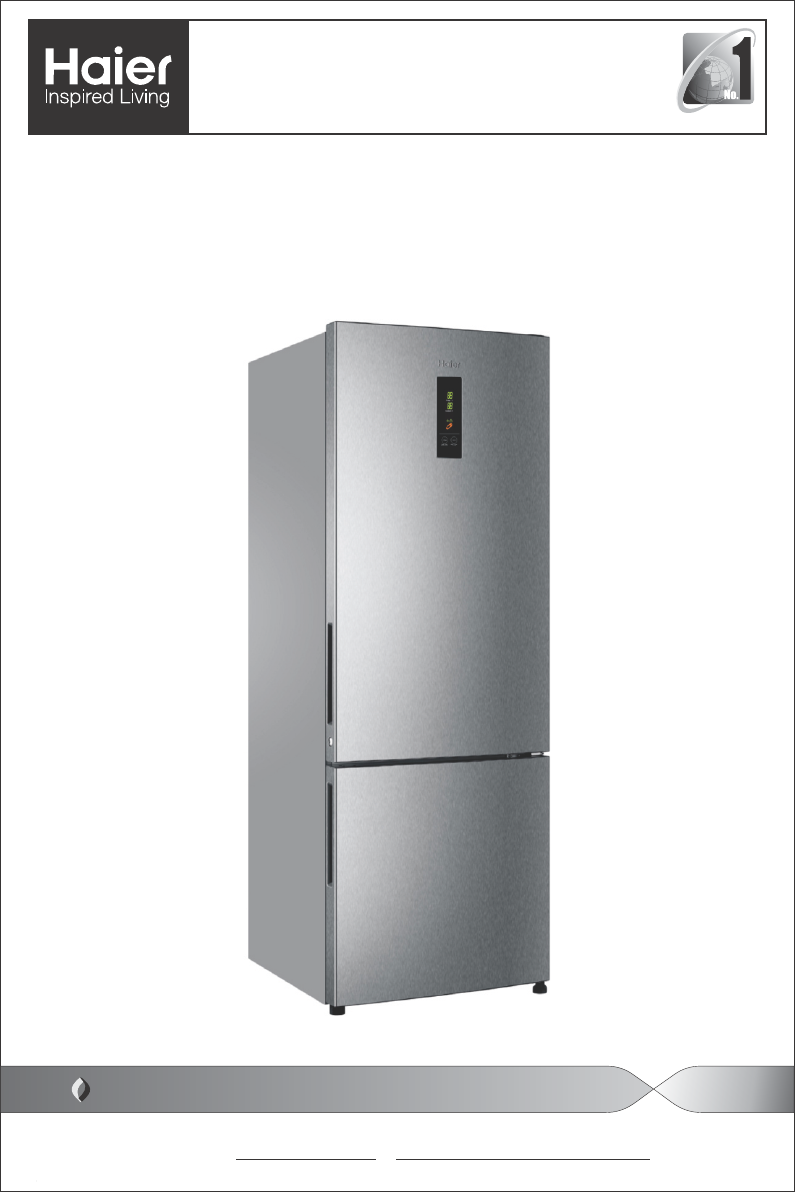 USER GUIDE FOR FROST FREE REFRIGERATOR
AND
E-WASTE GUIDELINE MANUAL
Haier Customer Care Toll Free (24×7)-1800-200-9999
Website: www.haier.com/in www.facebook.com/haierindia
"Source Euromonitor International Limited; retail volume sales in units based on 2013 data.
Live Smart. Live Green.
SMARTER LIFE BETTER PLANET
ECO LIFE
Major Appliances
*
World's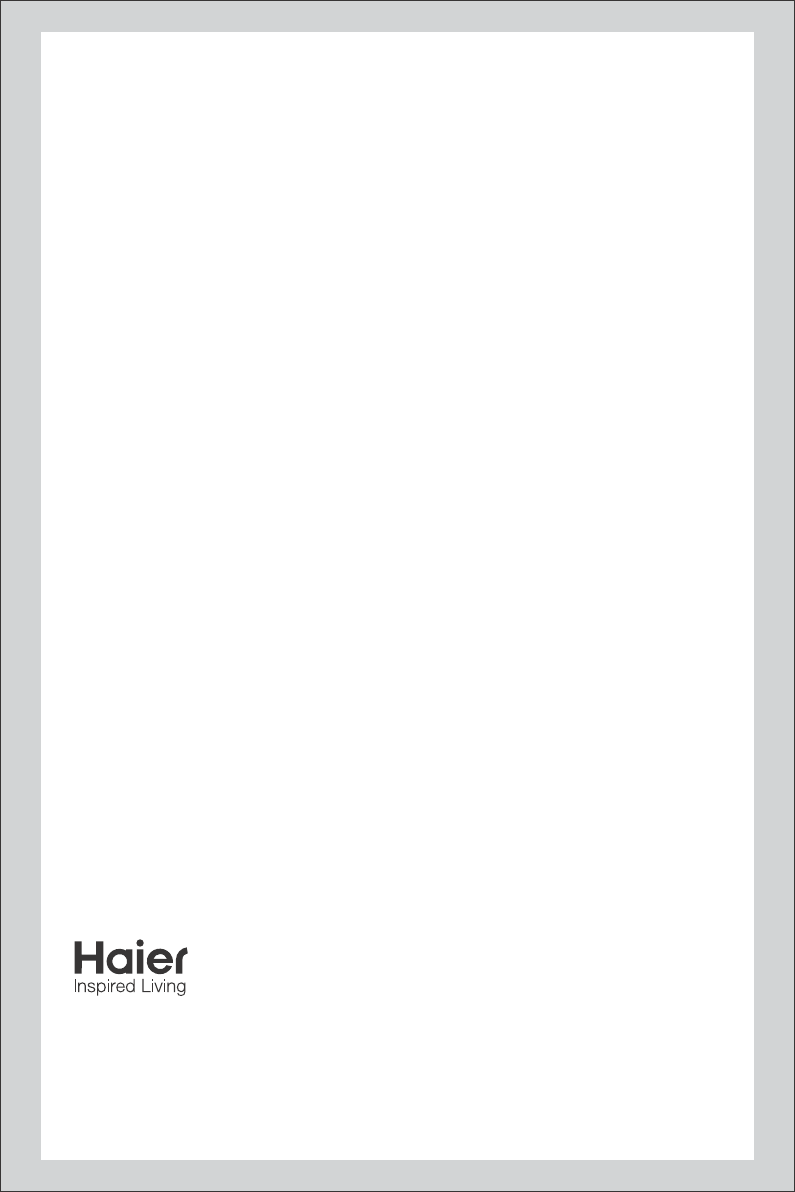 Dear Friend,
At the outset, we at Haier thank you for your interest in our range of
products. A unique and international range of appliances designed
solely with the purpose of making modern life simpler. And how! The
entire
Haier
range of appliances
ranging from
Refrigerators,
Televisions, Washing machines, Air-conditioners, Microwave ovens,
Dishwashers,
Wine
Coolers,
Freezers,
Visicoolers,
and
Chocolate
Coolers combines the best of technology, features, performance and
styling. All, a result of our perfect understanding of your lifestyle and
needs.
But what is a great product without great service? Leaving no stone
unturned in giving you the best of service, we have also established an
extensive
network
of
authorised
dealers
and
authorised
service
centers, so that you get a lifetime of great and timely service for your
Haier Appliance.
It has been an honor and a pleasure bringing these hi-tech products to
you and we hope that you get as much happiness using them as we
have got, putting them together for you.
Happy Inspired Living!
Thanking you

1. KNOW YOUR REFRIGERATOR
2. FEATURES OF YOUR REFRIGERATOR
3. METHODS OF SAFE INSTALLATION
4. INSTALLATION STEPS
5. MOVING OR RELOCATING THE REFRIGERATOR
6. CLEANING THE REFRIGERATOR
7. DEFROSTING THE REFRIGERATOR
8. HOW TO INSTALL
9. HOW TO OPERATE
10. HOW TO CHANGE TEMPERATURE
12. WHAT TO DO
13.
E-WASTE GUIDELINE MANUAL
CONTENTS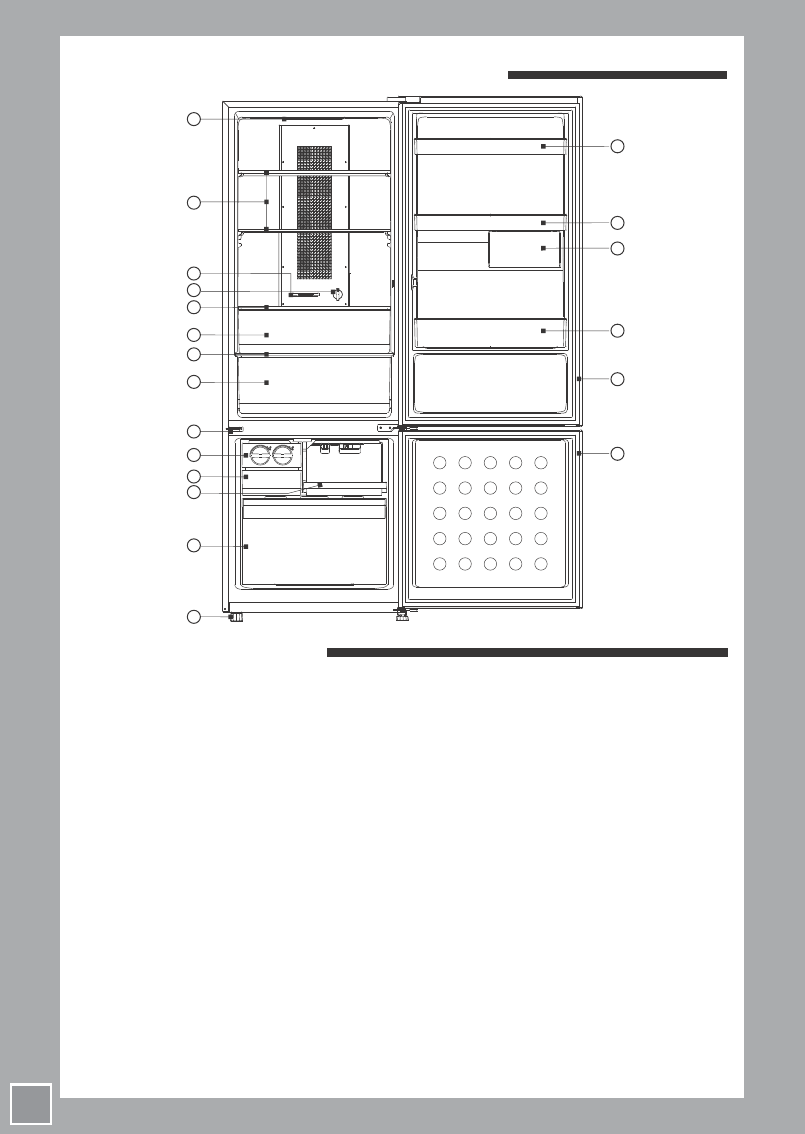 1
Note: Due to continuos improve in the Product, Specifications may change
without prior notice
1. KNOW YOUR REFRIGERATOR
1
2
3
4
2
5
2
6
7
8
9
10
11
12
17
13
13
14
15
16
Accessories:-
1. LED
2. Shelf Assy.
3. Air Duct-gate Manual
4. Ref. Control Knob
5. Fruit Case
6. Crisper
7. Lock Bracket
8. Ice Maker Assy
9. Ice Cube Tray
10. Shelf F-frz
11. Drawer Assy
12. Adjustable Leg Bolt
13. Door Rack Small
14. Utility Box
15. Door Rack Big
16. Gasket-Ref.
17. Gasket-Frz.
FEATURE CHART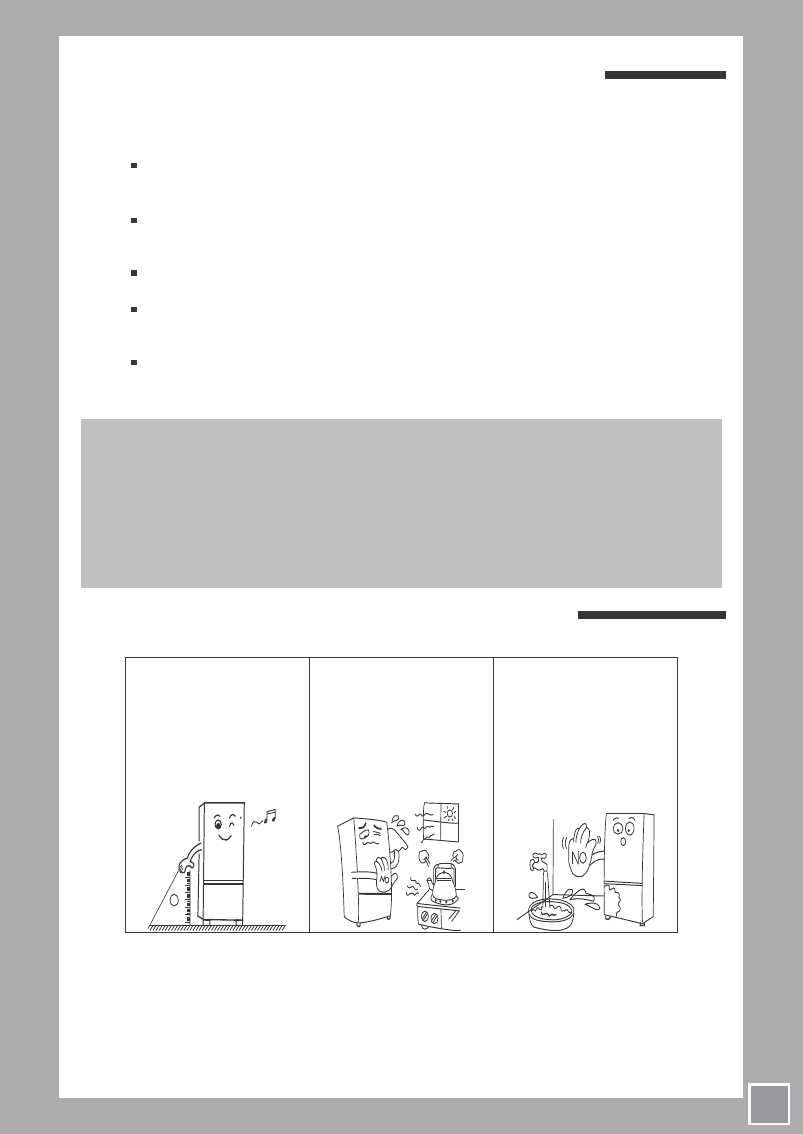 2
2. FEATURES OF YOUR REFRIGERATOR
CAUTION
1. Check mains voltage before inserting the power supply cord into socket.
2. Do not spill any liquid on the unit.
3. Don't work with flammable spray, such as paint near this unit.
4. Don't put ignitable materials such as benzene, L.P. Gas, alcohol etc. into this unit.
5. Take precautions against leakage of any gas equipment near this unit.
6. Don't let children hang on to the door of the unit.
7. Allow minimum 5 minutes gap before you restore the supply after disconnecting from
the mains.
Take a moment to know all the features of your refrigerator. Refer to the illustration
on page 1.
Ice Cube Tray
Fill Tray 3/4th full to allow expansion of water during freezing. Place the tray in
freezer chest. To release ice cubes, twist ice cube tray slightly.
Adjustable Shelf
Shelves can be removed by pulling forward. The shelf can be placed at a
desirable position.
No Frost
No frost in freezing compartment.
Vegetable Crisper
May be used for vegetable and fruit storage. Both the crisper and its cover
shelf are removable for easy cleaning. Simply slide forward to remove.
Egg Pocket
Used for Egg support. This pocket can be turned upside down.
May be used for small size goods.
3. METHODS OF SAFE INSTALLATION
Place the refrigerator
on a hard and level
floor.
Place your refrigerator
where there is no heat
source nearby and dry
Sun Light. High
surrounding temperature
will lower cooling
efficiency and increase
your electricity bill.
Place the refrigerator in
an area with low
moisture. Splashing
water or a high moisture
area may cause a short
circuit and invite
rusting.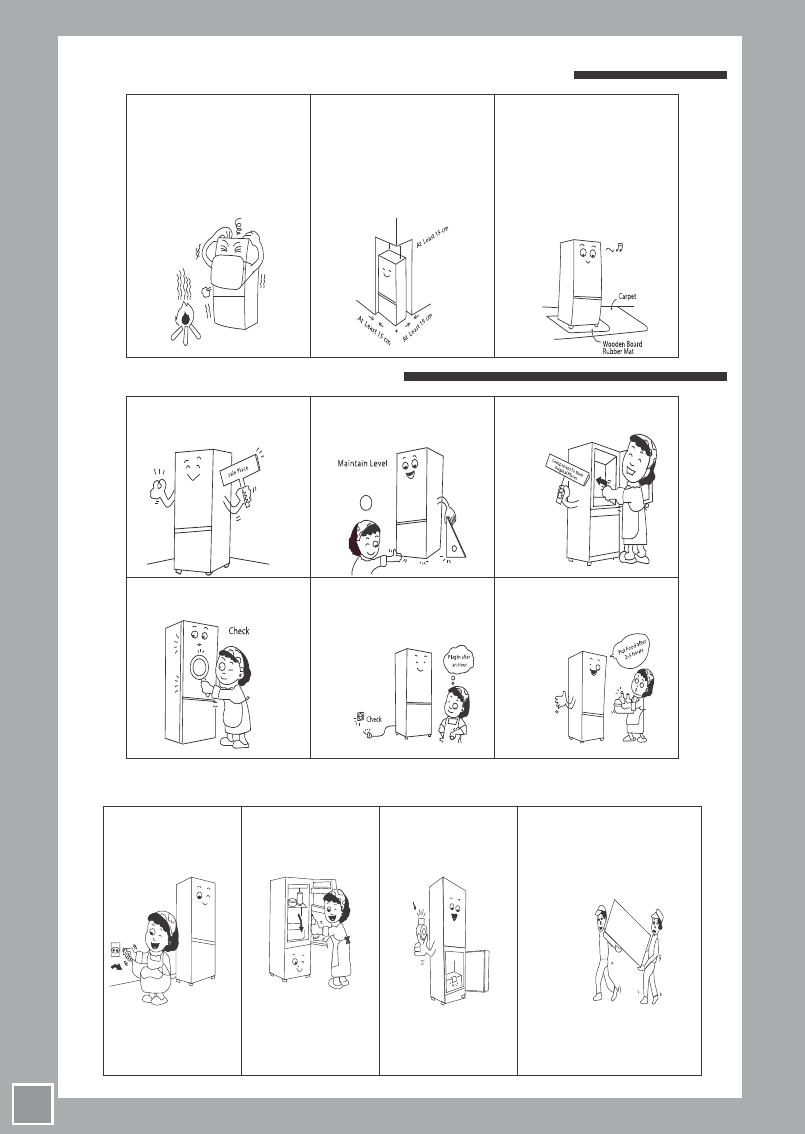 3
3. METHODS OF SAFE INSTALLATION
Avoid places that are
exposed to smoke. The
exterior paint may
decolor.
For good ventilation,
place refrigerator at least
6 inches (15 cms) away
from the wall. This helps
cooling efficiency and
lowers the electricity bill.
Placing the refrigerator
on the carpet may
develop heat and
discolors the appliance.
In such a case, put a
hard wooden board or a
rubber mat between the
refrigerator and the
carpet.
4. INSTALLATION STEPS
Select a safe place to
install your refrigerator.
Level the refrigerator by
using the adjustable foot.
Install the parts in their
respective places.
Check if the doors are
completely shut.
Check the voltage and
wait for an hour before
plugging the power cord
into an outlet.
After running the
refrigerator for 2-3
hours, put food in the
refrigerator.
5. MOVING OR RELOCATING THE REFRIGERATOR
Adhesive
Tape
Unplug the power
cord.
Remove food from
refrigerator
compartment.
Fasten the interior
components
with tape.
When moving two people
have to carry the
refrigerator for safety.
Do not move horizontally,
angle should be more
than 45°.
Fasten the doors with
tape while moving to
prevent them from
opening.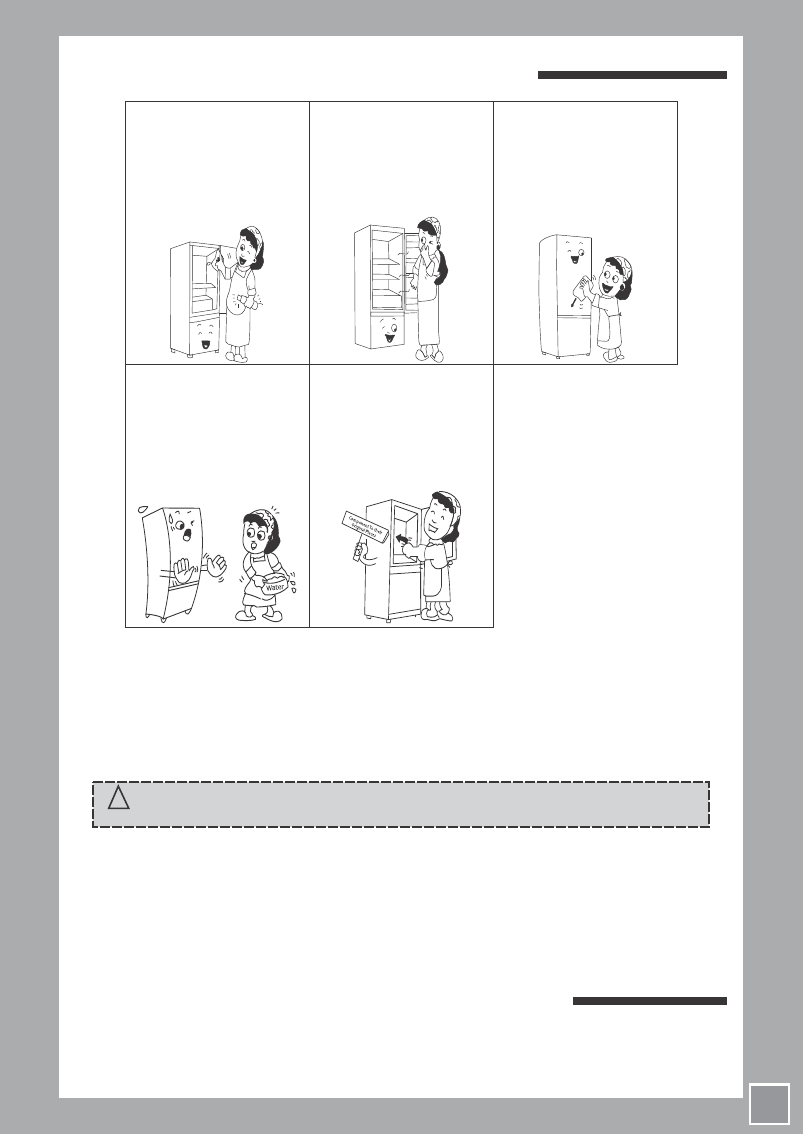 4
Soft cloth
Soft cloth
6. CLEANING THE REFRIGERATOR
When cleaning your
refrigerator, unplug the
power cord and use a
soft cloth and
dishwashing liquid to
clean.
The refrigerator can
smell in its initial
operation, but the odour
will go away when the
refrigerator is cooled
sufficiently.
Use a soft cloth for
cleaning the interior and
exterior of the
refrigerator.
Do not splash water
directly in the
refrigerator itself.
Put the parts back in
their original position.
7. DEFROSTING THE REFRIGERATOR
Your refrigerator has been fitted with an automatic defrost timer, which relieves
you from defrosting manually.
CLEANING THE REFRIGERATOR
Remove all food and special compartments from the freezer and refrigerator section.
Exterior : Wash with warm, soapy water. Rinse and dry. Use appliance polish or wax
periodically to keep the exterior looking like new.
Door gasket : Clean at least twice a year with mild soap and water, rinse and dry. Apply
a light film of petroleum jelly to the gaskets to keep them soft and pliable.
Interior : Wash the liner with warm, soapy water, rinse and dry.
NOTE : Interior and exterior
1. Do not use abrassive, heavy-duty powders, etc. These can scratch and dull
the surface, depending on their abrassive strength and cleaning pressure applied.
Avoid metal pads and abrassive impregnated plastic, nylon and cloth pads, etc.
2. Do not use concentrated liquid dishwashing detergent (dissolve in warm water
before using), abrassive cleaners, solvents or polishing agents on plastic parts.
These cleaners may cause cracking or discolouring.
CAUTION :
To avoid the risk of electrical shock, unplug the power cord before
replacing a burned out LED or cleaning.
!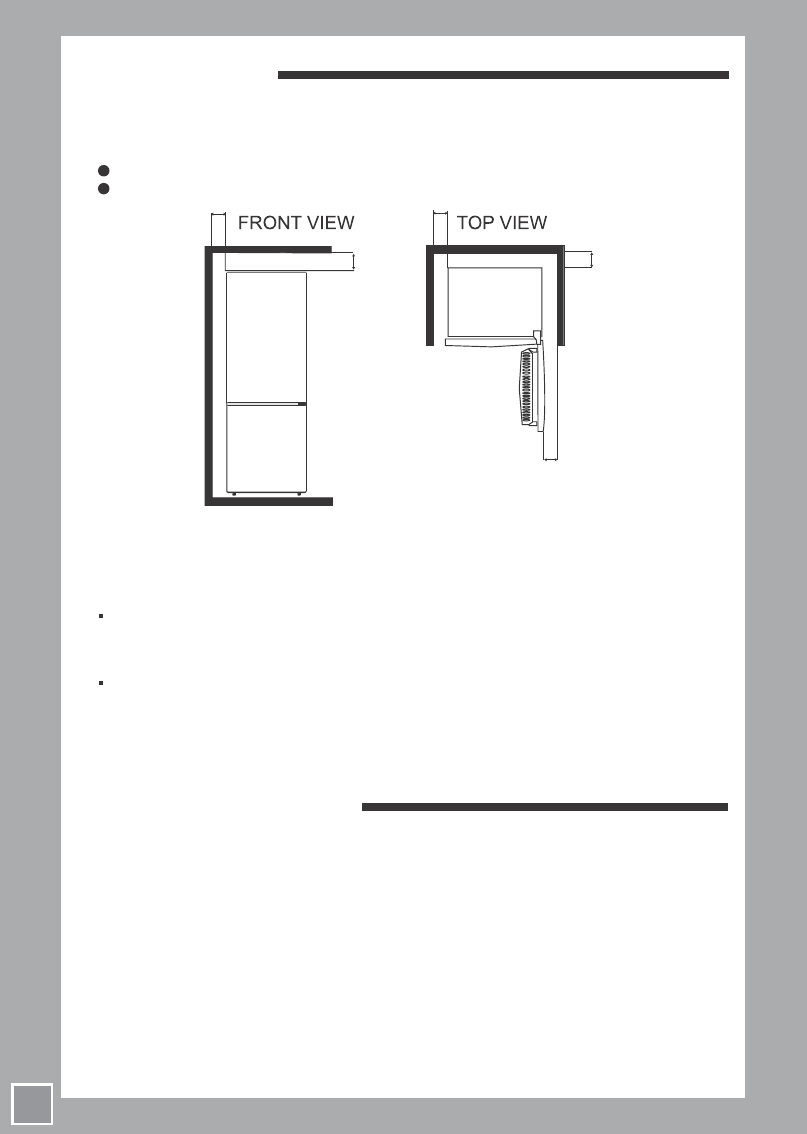 5
8. HOW TO INSTALL
Install refrigerator in a convenient location away from extreme heat and cold. Allow
sufficient clearance between the refrigerator and side wall so that the door will open for
a fully usable interior. Refrigerator is not designed for recessed installation.
Select a place with hard and level floor.
Allow 6 inches (15cm) of Minimum space between the refrigerator's side and the wall.
Leveling :
Level refrigerator so that it rests firmly on the floor without rocking. There are two
leveling feet, one at each front corner. Turn to the left to raise a corner, to the right
to lower it. Use shims under the rear corner, if necessary.
If you want the refrigerator door to close when not held open, adjust glides so
that the front of the refrigerator is raised. However, front corners must be leveled
with each other.
If you want the refrigerator door to remain motionless when open, adjust the
leveling glides so that all four corners are leveled with each other.
NOTE:
Make sure all packaging material is removed. If the shipping tape has
left a residue on the door, touch the residue lightly with the side of tape
or with isopropyl alcohol (most rubbing alcohol is this type).
9. HOW TO OPERATE
TEMPERATURE CONTROL
Your refrigerator has two controls to set inside temperatures at desired levels:
'Freezer temperature control' and 'Refrigerator temperature control'. A conveniently
placed 'Refrigerator temperature control' enables you to set positions of MIN.,
MID, MAX & TEST RUN. After the setting, the refrigerator will become colder.
'Freezer temperature control' controls the quantity FRZ.MIN, NORMAL
& MAX are the settings available to you. When set at FRZ. MAX, the Freezer
compartment is at its coldest setting.
15cm
15cm
15cm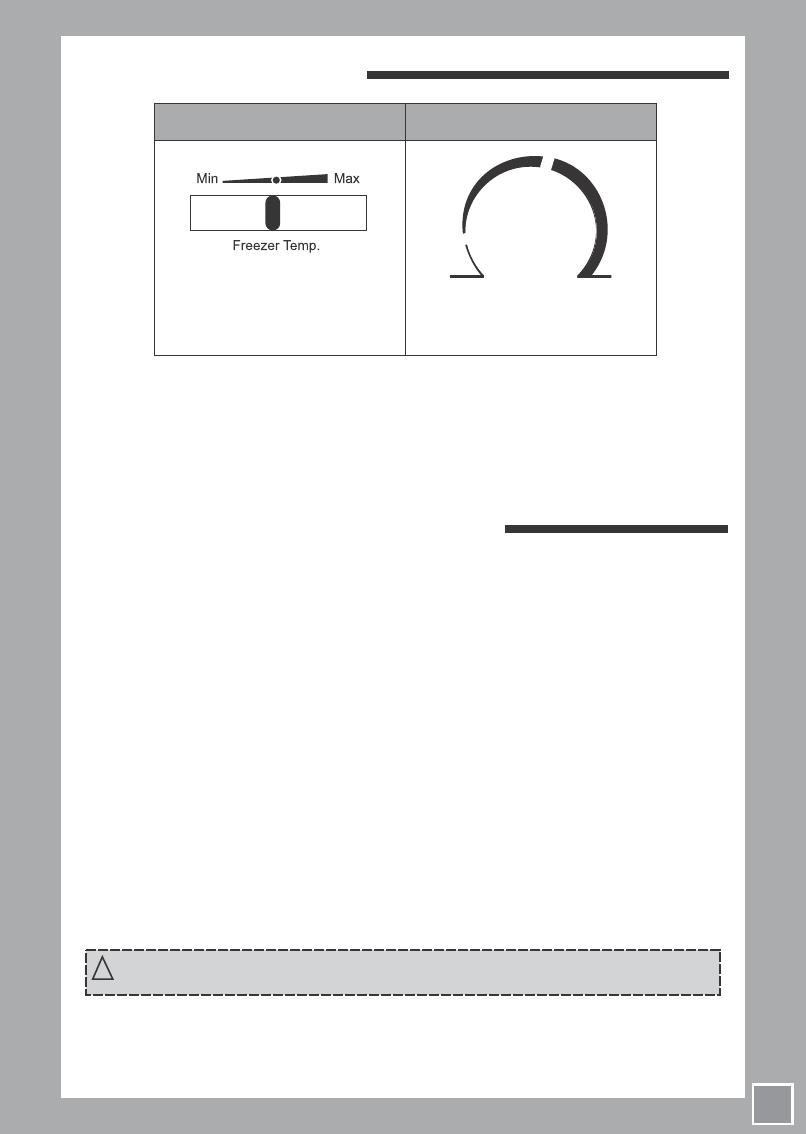 6
9. HOW TO OPERATE
Refrigerator temperature control
Freezer temperature control
INITIAL SETTINGS
Set the 'freezer temperature control' & 'Refrigerator temperature control' at NORMAL.
Starting your new refrigerator
1. Clean the refrigerator thoroughly. Wipe the outside with a soft dry cloth, the inside
with a damp cloth.
2. Set temperature control at normal.
3. Connect the power supply cord.
10. TO CHANGE TEMPERATURE
Many factors influence the internal temperature of the refrigerator and freezer section.
1. The temperature and humidity of the room.
2. The frequency of door openings and the amount of warm food placed in the refrigerator.
3. The combination of food and containers stored in the refrigerator. For these reasons,
you may have to adjust the control to suit the season and your needs as follows:-
4. For maximum cooling in freezer compartment, set the knob as follows-
– Set air flow control knob of freezer towards MAX.
– Set temperature control knob in ref. towards MAX.
5. For maximum cooling in refrigerator compartment, set the knob as follows-
– Set air flow control knob of freezer towards MIN (this will direct cold air to ref comp.)
– Set temperature control knob in ref. towards MAX.
6. Allow approximately 12 hours or overnight for temperature to stabilize.
Then check to see if further adjustments are necessary.
Note:
User is advised to adjust suitable combination of both control knob setting as desired.
FOR BEST SETTING DURING COLD AND HOT WEATHER, WE RECOMMEND
THE FOLLOWING:
1. During cold weather, set 'Freezer Temperature Control' at MAX & 'Refrigerator
Temperature Control' at MID or MIN, as use of Refrigerator compartment is less.
2. During hot weather, set 'Freezer Temperature Control' at MID or MIN & 'Refrigerator
Temperature Control' at MAX if loaded with large quantity of food hence Refrigerator
compartment will get additional cooling.
CAUTION :
1. Do not set the 'Refrigerator temperature control' beyond the MAX and MIN.
2. The 'Test Run' is to be used only for a service check.
!
To turn off refrigerator
Disconnect the power supply cord. Remove ice tray and food. Leave doors open for
air circulation and de humidification of both sections.
Refrigerator Temp.
Mid
Normal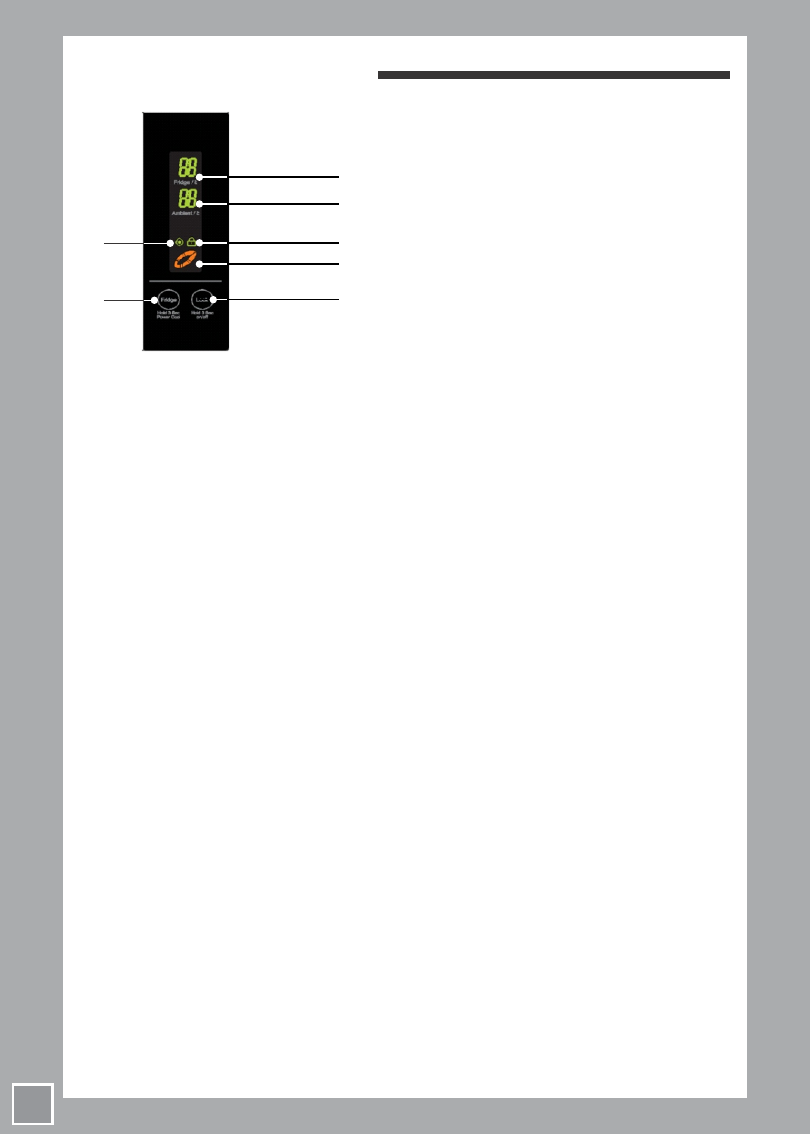 7
11. OPERATION PANEL
A-Refrigerator temperature regulation
B-Lock / Unlock
C-Refrigerated temperature display
D-Ambient temperature display
E-Power cool display
F-Lock display
G-Compressor operation display
C
D
F
G
B
E
A
(1) Power & Memory
When you switch ON the power to refrigerator firstly it will check internal circuitry for 5
seconds and after 30 seconds the display panel will be locked, The refrigerator will
remember last temp setting. To unlock change setting refer point no 2.
(2) Locking & Unlocking the Touch Screen
In order to prevent accidental touch to control buttons, the Refrigerator can be set to
lock/unlock function. To lock press/tap the B button for 3 seconds, symbol F will appear to
show locked state.To unlock press/tap B button for 3 seconds, symbol F will disappear, to
show unlocked state.
Note:
In locked state functions (3) (4) (5) (6) are disabled, to operate these functions the
Refrigerator must be in Unlock state.
(3) Refrigerator Temperature Regulation
Refrigerator temperature can be adjusted between 0˚c – 5˚c.Unlock the refrigerator, tap A
button, symbol C will flash to indicate Refrigerator is in temperature setting mode. Again
tap A button, at each tap temperature value increases from 1˚c to 5˚c As you reach the
desired temperature value, tap B button to confirm OR the desired value will get settled
automatically if there is no key operation for next 5 seconds.
Note:
When temperature settings are changed, the temperature inside the refrigerator
takes some time to achieve the set level. This period of time depends on the set
temperature value, ambient temperature, frequency & number of door openings.
(4) Power Cool Setting
Power Cool function accelerates the cooling rate, so as to maintain the nutritional value of
food.
Unlock the Refrigerator.
Tap A button for 3 seconds, power cool symbol E will get displayed, which indicated
Refrigerator is in Power Cool mode. To Exit Power Cool mode tap A button for 3 seconds.
Refrigerator will automatically exit the Power Cool mode after continuous refrigeration for
3 hours.
(5) Compressor Operation Display
Symbol G indicates compressor is in running state.
(6)Ambient Temperature
Symbol D displays Ambient Temperature.

8
12. WHAT TO DO
When out of operation for a long time
1. Remove the power supply cord.
2. Dry your refrigerator, with the door open for 2-3 days.
Before transportation
1. Securely fasten removable interiors parts (or move and package them separately).
2. Do not lay your refrigerator horizontally otherwise the compressor may get damaged
.
Before you call for service, please check the following points by
yourself first (PROBLEM / POSSIBLE CAUSE)
REFRIGERATOR DOES NOT OPERATE
1. May be in defrost cycle when motors does not operate for about 30 minutes.
2. If interior light is not on, refrigerator may not be plugged in at the wall electrical outlet.
3. If plug is secure and the refrigerator still fails to operate, plug a lamp or a small
appliance into the same outlet to determine if there is a tripped circuit breaker.
COMPRESSOR OPERATES FOR LONG PERIOD AND FREQUENTLY
1. Modern refrigerators are larger and run colder, which require more running time
to provide more stable temperature.
2. Normally, when refrigerator is first delivered to your home, usually requires 24
hours to completely cool.
3. Large amounts of food is placed in the refrigerator to be cooled or frozen.
4. Hot weather, frequent door openings.
5. Door is left open.
VIBRATION OR RATTLING
1. If the refrigerator vibrates more than normal, it is likely that it is not resting solidly
on the floor, the front leveling legs need adjusting or floor is weak / uneven.
2. If dishes vibrate on shelves, try moving them. Slight vibration is normal.
REFRIGERATOR HAS ODOUR
1. Odour producing food should be covered or wrapped. Check for spoiled food.
2. Interior needs cleaning.
WARM CABINET SURFACE
At times, the refrigerator cabinet may be warm to the touch. This is a normal occurrence
that helps to prevent moisture from condensing on the cabinet. The condition will be
more noticeable when you first start the refrigerator, during hot weather and after
excessive or lengthy door opening.
MOISTURE COLLECTS INSIDE
1. Too frequent or too long door opening.
2. In humid weather, air carries moisture into refrigerator when doors are opened.
MOISTURE FORMS ON CABINET SURFACE BETWEEN THE DOORS
Not unusual during periods of high humidity. To help prevent rust, wipe surface
& keep dry.
EXCESSIVE MOISTURE IN CRISPER
1. Food not wrapped properly.
2. Hot, humid weather.
FOOD DRIES OUT
Food not covered, wrapped or sealed properly.
FROST OR ICE CRYSTAL ON FROZEN FOOD
1. Door may have been left open.
2. Too frequent or too long door opening.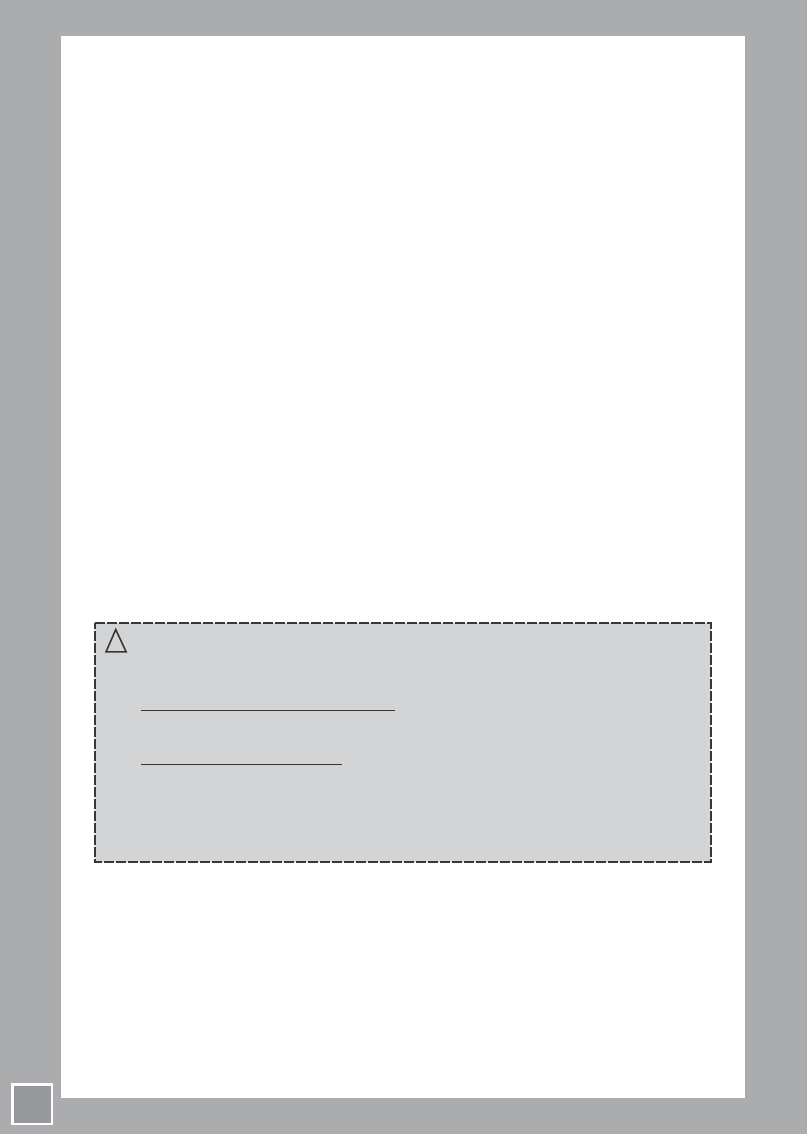 9
SLOW ICE CUBE FREEZING
1. Turn temperature control to colder settings.
2. Door may have been left open.
ICE CUBES HAVE ODOUR / TASTE
1. Ice storage box needs to be emptied, washed and old cubes need to be discarded.
2. Unsealed packages in the refrigerator and/or frozen food storage compartments
may be transmitting odour taste to ice cubes.
3. Interior of the refrigerator needs cleaning.
FRESH OR FROZEN FOOD STORAGE COMPARTMENT TEMPERATURE
TOO WARM
1. Temperature control not set cold enough. Refer to temperature control section.
2. Hot food stored without cooling.
3. Blocked air duct in freezer compartment.
4. Warm weather, frequent door opening.
5. Door left open for too long.
CABINET LIGHT NOT WORKING
1. The LED burned out.
2. No power supply.
FREEZER NOT FREEZING PROPERLY
1. Product with high sugar content may not harden completely when frozen (ice-cream,
concentrated juice etc.).
2. Adjust the freezer control to a colder setting.
3. Move the food away from the air vent (near the controls).
4. Turn down the refrigerator temperature control.
SIZZLING SOUND IN FREEZER
Normal sound caused by defrost water dripping on defrost mechanism.
Improper use of the grounding plug may result in a risk of electric shock. If a
grounding adapter is used, make sure the receptacle box is fully grounded.
– Method of Replacing Supply cord : If the supply cord is damaged, it must
be replaced by the manufacturer its service agent or similarly qualified person
in order to avoid hazard.
– Method of Replacing LED : Switch off the Refrigerator then take out shelves
remove the old LED and fit new LED. Place the cover, & all shelves in its
proper position and switch on the supply.
– Please keep the keys away from children for safer operation.
– This refrigerator ( Food Freezer ) shall be protected against indirect contact in
accordance with the heavy current regulation.
!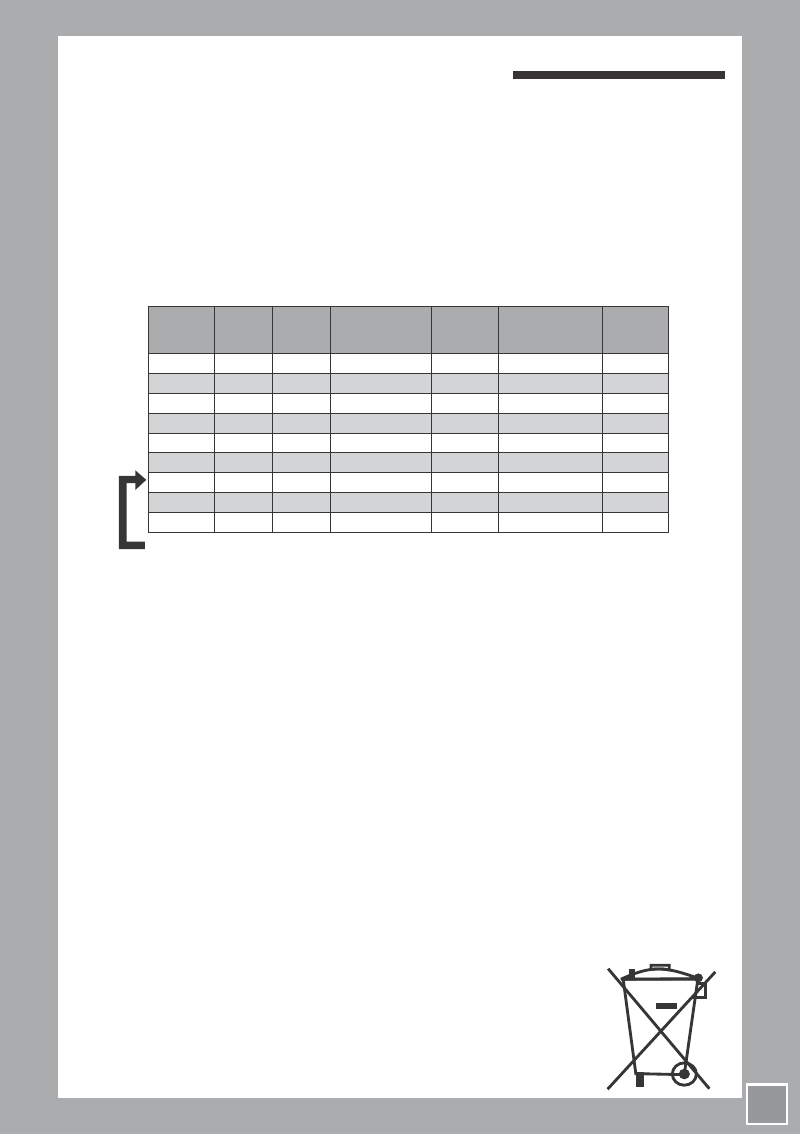 10
13. E-WASTE GUIDELINE MANUAL
The Do's of Electronic Waste Recycling:
•
Give the discarded Electronic Equipments only at the authorized collection centers so that
the same can be properly recycled
• Drop the discarded Electronic Equipments only in the bins meant for the Electronic Waste
• Ask the retailer about the Take Back schemes
• Consult the authorized service center as to whether the Electronic Equipment can be
repaired or not, before discarding the same
• Tell your neighbors and other persons about the hazards of improper disposal or handling
or improper recycling of the Electronic Waste
• If the unwanted Electronic Equipments still work or can be repaired then consider
donating them.
The Don'ts of Electronic Waste Recycling:
•
Don't dump the discarded Electronic Equipments in open or in any Land Fill Site as the
same will result in contaminating the Soil and the ground water
• Don't dispose of the discarded Electronic Equipments in household bins or Municipal Bins
• Don't sell or give your discarded Electronic Equipments to any Trash Dealer or Kabadiwala
• Recycling Electronic Equipments helps to save natural finite resources and also reduces
the environmental and health risks associated with improper handling/disposing the
Electronic Waste
• To minimize our impact on the earth and to protect the environment for future generations
return your discarded Electronic Equipments here for safe recycling:
Contact for further information:
Haier Appliances (India) Pvt. Ltd.
Building -1, Okhla Industrial Estate Phase III,
or Call us at
Toll Free No. (24X7): 1800-200-9999
Electronic equipments contain many hazardous metallic contaminants such as lead,
cadmium, and beryllium and brominated flame-retardants. The improper handling and/or
improper recycling of the Electronic Waste results in these hazardous metals/substances
getting released into our eco and biological system, thereby leading to various health
hazards. The Hazardous contents in the electronic equipment include:
• Lead • Brominated Flame Retardants • Chromium • Mercury
• Beryllium • Cadmium • Barium • Carbon Black • Phosphor
HAZARDS OF IMPROPER HANDLING AND/OR IMPROPER
RECYCLING OF ELECTRONIC WASTE
E-Waste Toxic Components and their Damage to Human Health
X
Without safe recycling, most of these toxic components will end up in
land fill – poisoning the soil and water
Barium
Nickel
Palladium
Rhodium
Silver
X
X
X
X
X
X
XX
Lithium
Kidney
Damage
Skeletal
System
Damage
Nervous/
Reproductive
System Damage
Toxic
Materials
Birth
Defects
Heart, Liver,
Lung & Spleen
Damage
Brain
Damage
X
Lead
X
X
Mercury
X
XX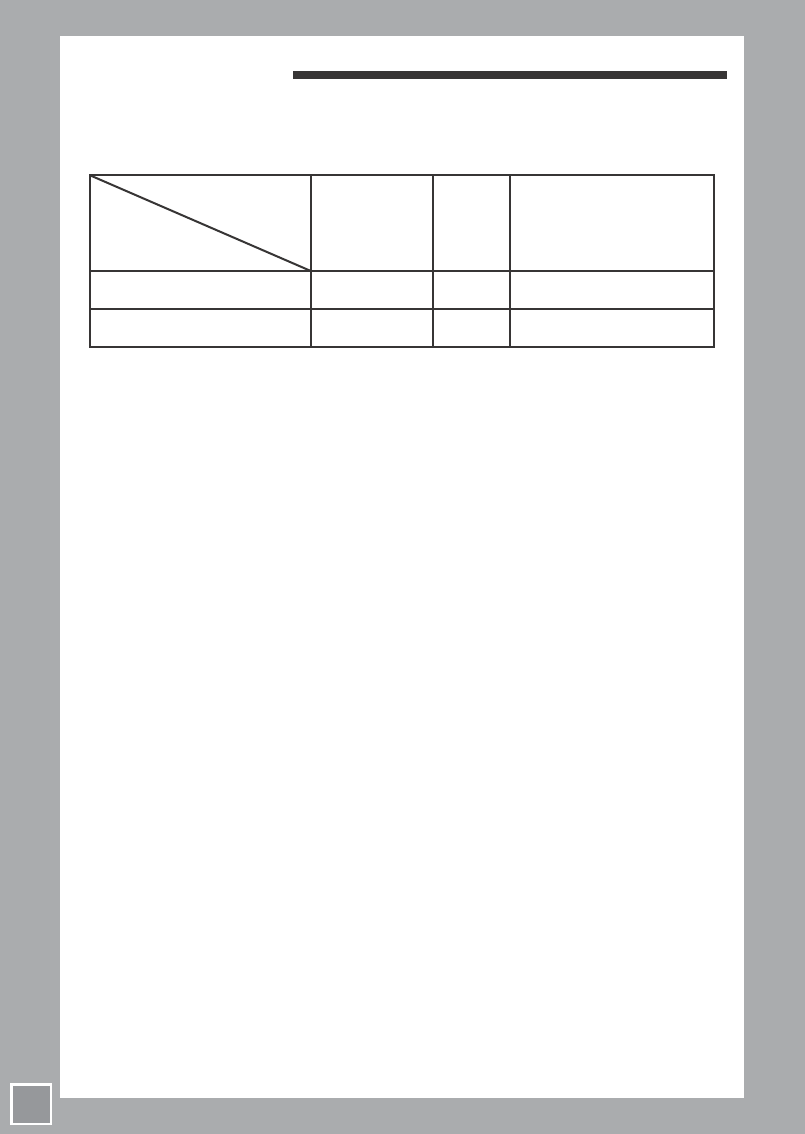 11
TECHNICAL DATA
Type Content
Product Dims.
Depth*width*height
(mm)
320 Ltr. Series
R600a 62 641*595*1600
345 Ltr. Series
R600a 63.5 641*595*1700
Refrigerant
Weight
(kg)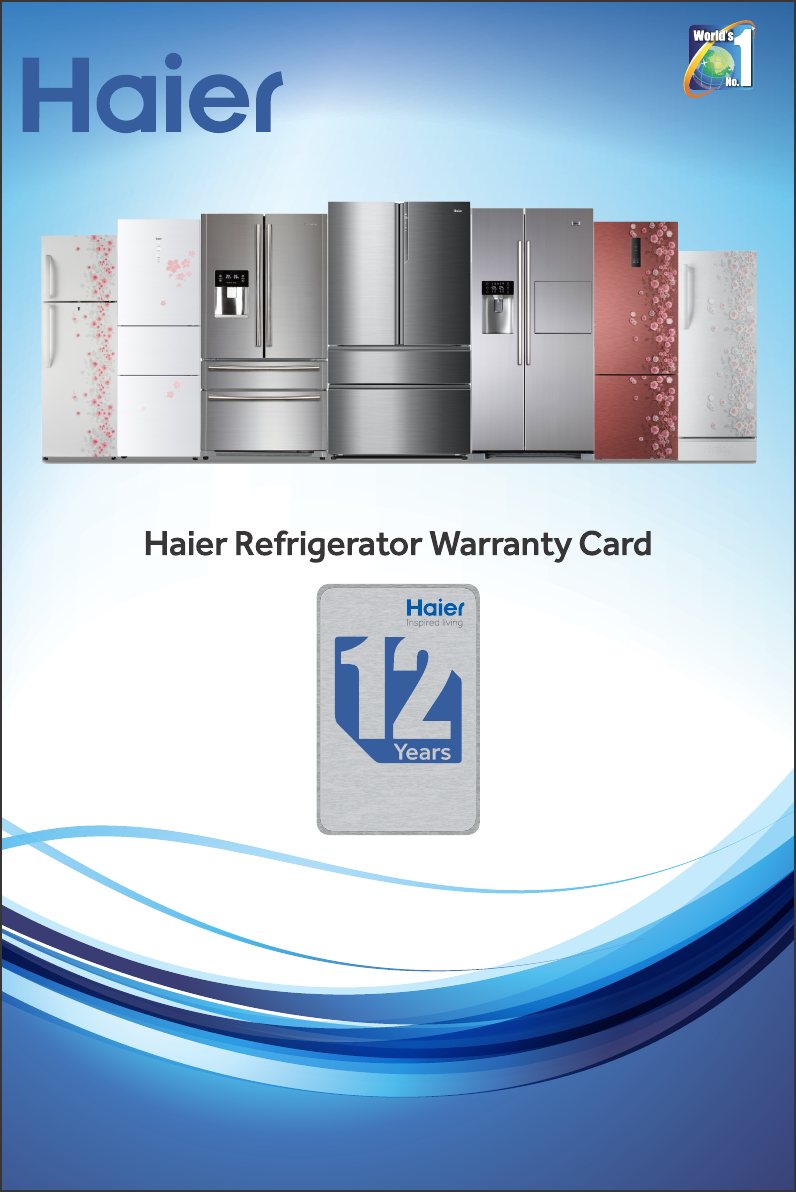 Haier Customer Care Toll Free (24×7)-1800-200-9999 1800-102-9999 SMS: 'Haier' to 56677 Website: www.haier.com/in/ www.facebook.com/haierindia
*Source Euromonitor International Limited; retail volume sales in unit based on 2012 data.
*12 Years compressor warranty only available for TM, NEW BMR, 3D, SBS & FRD models
Refrigeration
Appliances
WARRANTY
on Compressor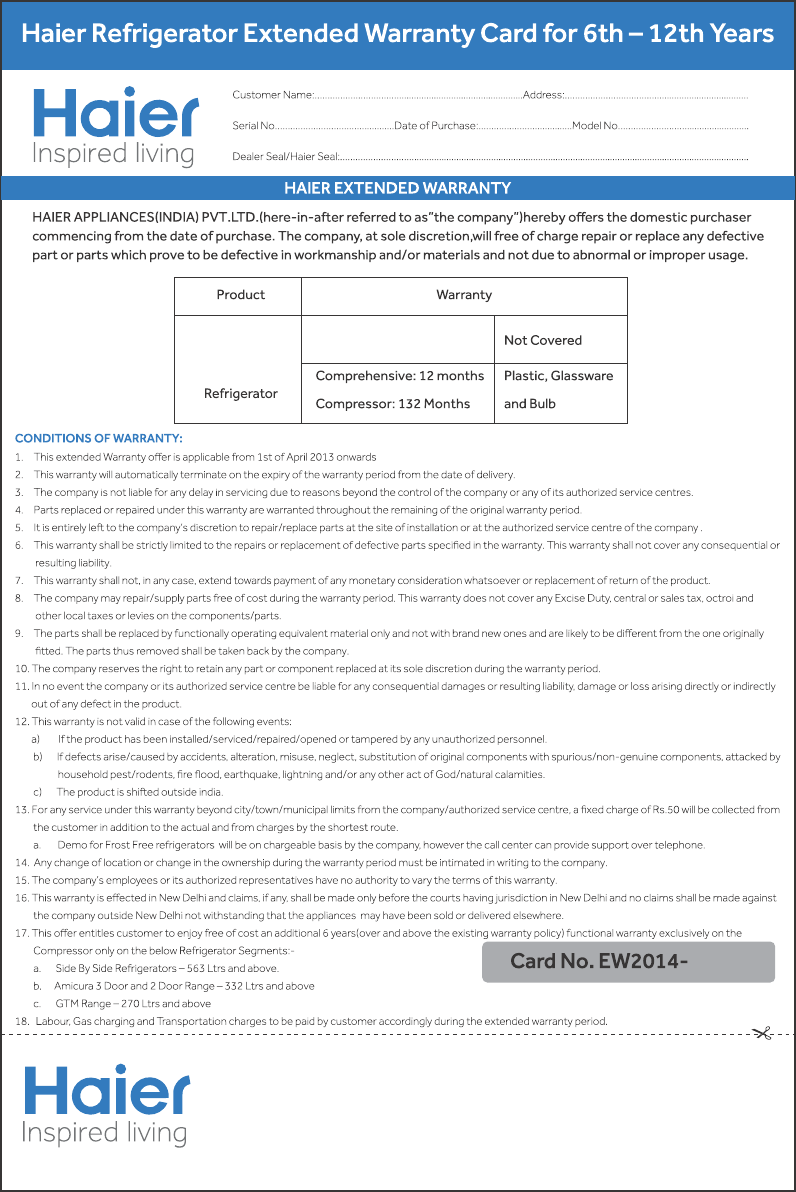 Customer Name:………………………………………………………………………..Address:……………………………………………………………….
Serial No………………………………………..Date of Purchase:……………………………….Model No…………………………………………….
Dealer Seal/Haier Seal:………………………………………………………………………………………………………………………………………………..
Period Parts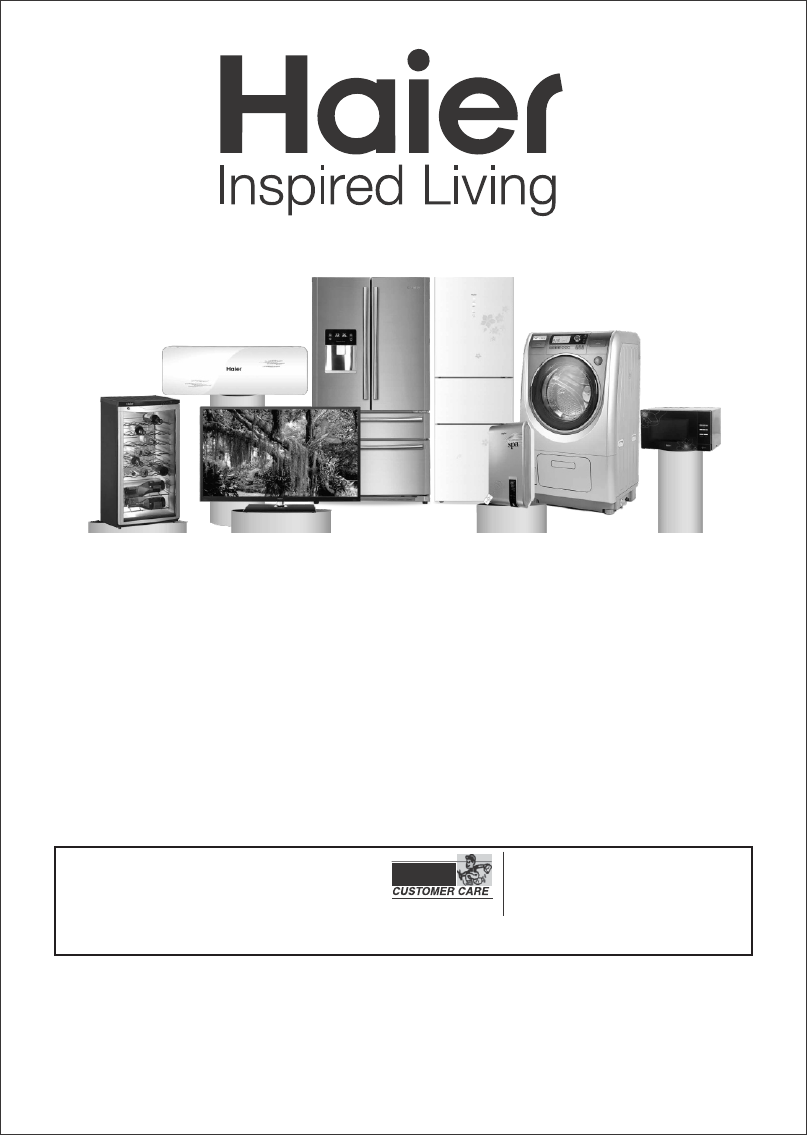 Haier
is
the
biggest
Home Appliances
Brand*in
the
world.
We
represent
a
higher
quality
of
life
across
166
countries,
and
have
transformed
the
way
people
live.
Haier
has
touched
millions
of
lives.
Brining
to
them
a
whole range of products that go far beyond mere appliances. Haier boasts
of a product range of 15,100 models across 96 categories. Haier products
are inspired by actual usage patterns of people and are designed in R&D
centers globally. Adding that little extra makes the difference. Haier is today
welcomed by millions to make their today better than yesterday. At Haier,
we call this Inspired Living.
1800-200-9999 (Toll Free – 24×7)
SMS: 'Haier' to 56677
Haier Appliances ( India) Pvt.Ltd.
Building -1, Okhla Industrial Estate Phase III,
Tel- +91-1139496000,30674000,Fax: +91-11-30674088
Manufactured by
: Haier Appliances (India) Pvt. Ltd.,
B-3, M.I.D.C. Ranjangaon, Tal. Shirur, Dist. Pune-412 208.
Part No. 0060514023C