If your Philips SmartClean system is not working properly, please read our advice below to troubleshoot this problem yourself.
Unit is unplugged
Your SmartClean station needs to be plugged in to work.
Always check if the device is connected to an electric socket before turning it on. Cartridge needs to be replaced
If the arrow symbol on your SmartClean unit is lighting up, this means that the cartridge with the SmartClean cleaning solution needs to be replaced.
Please replace the cartridge, by opening the bottom section of the SmartClean system.
To find out more about replacing your SmartClean cartridge please read the article 'When should I replace the SmartClean catridge?'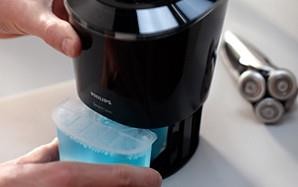 Reset the unit
If the SmartClean device is still not working, we recommend to restart it.
Simply unplug the device from the mains, wait for 10 seconds and plug it back in. Still not working
Please contact our team to further help you with this problem.