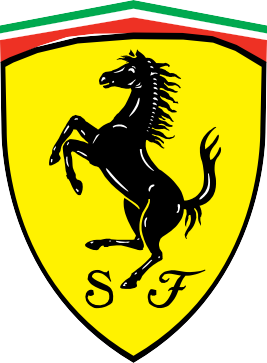 LIMITED WARRANTY
Scuderia Ferrari Orologi (SFO) warrants to the original consumer that his/her watch will be free from defects in materials and workmanship under normal use for a period of two (2) years from date of purchase. During this period, the watch movement will be repaired or the watch will be replaced (at the sole discretion of SFO) free of charge, if it proves to be defective in material or workmanship under normal use.
The watch must have been purchased from an authorized retailer, and the warranty certificate from the printed booklet supplied with the watch, which must accompany the watch when it is sent in for service under warranty, must provide the following information: date of purchase, reference number found on the case-back of the watch and the retailer's official stamp.
This limited warranty does not cover batteries, straps, ion-plating, scratches or any damage arising from normal wear, accidents or misuse, or from any alteration, service or repair performed by any party other than a Scuderia Ferrari Orologi Authorized Service Center.
Any other warranty provided by the retailer is entirely their responsibility. No person or company is authorized to change the terms of this warranty. This warranty gives the consumer specific legal rights. He/she may also have other statutory rights which may vary from state to state and country to country.
OBTAINING SERVICE
Under Warranty
Should warranty service be required, pack your watch properly (see below) and send it along with (1) the original sales receipt, (2) filled out Warranty Certificate and (3) a completed copy of the Scuderia Ferrari Orologi Service Request Form to the nearest Scuderia Ferrari Orologi Service Center. An abbreviated list of authorized service centers can be found in your printed warranty booklet and on this website – just return to the Scuderia Ferrari watches service website home page and click on the Find a Watch Repair location link.
Out of Warranty
Authorized Scuderia Ferrari Orologi Service Centers can also perform repairs not covered by the Scuderia Ferrari Orologi warranty as well as service after the expiration of the warranty period.
Should your watch require parts or service not covered under the terms of your warranty, a written estimate will be sent for your approval and payment before the work is undertaken. A Service Request Form is provided below.
Packing Your Watch
Pack your watch securely in padded wrapping materials for protection against shock. Be sure to include a completed copy of the Scuderia Ferrari Orologi Service Request Form.
Insuring Your Watch
We recommend that you use registered mail and insure your watch for its full replacement value.
Additional Instructions
Charges will be made for all repairs unless the original purchase receipt is returned with the product and repairs are covered under terms of warranty.